Kuch Kuch Hota Hai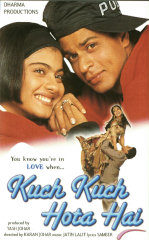 Film: Colour, 177 minutes, Hindi/English
Date: October 16, 1998
Production: Yash Raj Films
Director: Karan Johar
Story: Karan Johar
Cinematography: Santosh Thundiiayil
Music: Jatin-Lalit
Lyricists: Sameer
Playback: Kumar Sanu, Kavita Krishnamurthy, Shankay Mahadevan, Manpreet Akttar
Art Direction: Sharmishta Roy
Cast: Shah Rukh Khan, Kajol, Rani Mukherjee, Salman Khan


Synopsis
This is the story of Rahul (Shah Rukh Khan) and Anjali (Kajol) who studies in St. Xavier's College. Anjali being a tomboy got along very well with Rahul and the other boys-Rahul being her best friend. Being so close to each other, Rahul and Anjali would probalbly have fallen in love, however the reasons why this did not happen was because they were having a very good time being best buddies and then Tina (Ranee Mukherjee) the Principal's daughter came into their lives. For Anjali, Tina was a third member of their gang, however, for Rahul-his life was never the same-he fell in love with her.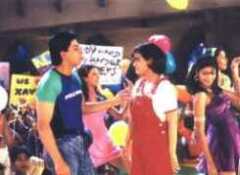 Anjali was finally beginneing to fall in love with Rahul, and when she sums up the courage to tell Rahul about her feelings, Rahul informed Anjali in his usual friendly manner, that he was falling in love with Tina totally oblivious of his best friends feelings for him. Boken hearted Anjali decides to leave the college mid term making up an excuse. It is at this point that Tina having always suspected Anjali's true feelings for Rahul realises why she is actually leaving.
The film revolves around the story being narrated to Little Anjali (Sana saeed), Rahul and Tina's eight year old daughter through the letters her mother has left for her whe she died dut to complications at child birth. Tina tells her daughter to fulfill her dream to bring back her father and Anjali together-best friends who would have eventually fallen in love and who have not seen each other for the past nine years.
"Kuch Kuch Hota Hai" is the story of best friends - Now they are falling in love.
Film review
Karan Johar's "Kuch Kuch Hota Hai" was a long-awaited film for several reasons. First and foremost, it re- unites the "DDLJ" team of Shahrukh and Kajol. Second, this is "Aati Kya Khandala" girl Rani Mukherjee's first film after hitting stardom. Most important, however, is the advance buzz about Karan Johar - that he is allegedly in the league of Aditya Chopra as a writer/director. With so much resting on the shoulders of this film, it seems almost inevitable that the film should collapse under the weight of these expectations. Rest assured - it doesn't!!!! "Kuch Kuch Hota Hai" takes these expectations and uses them as a catapult to soar into the land of classic romantic cinema.
All of the actors are in top form here. Kajol has a lot of work ahead of her. What do I mean? She needs to start clearing her bookshelves as the awards are about to start pouring in. She is simply brilliant as the gawky, outspoken tomboy who transforms herself into the demure, sexy siren. Shahrukh is Shahrukh. His performance is heartbreakingly honest at times, and at times he hams his way through scenes, but isn't that why we love him? It must be noted, however, that the Rukhster and Kajol define chemistry. Ironically, the relative newcomer - stunning Rani Mukherjee - has the task of playing the most intelligent, attractive, and confident of the characters, and she does it with the perfection of a pro (do I hear another award?). All of the supporting cast - including Farida Jalal, Anupam Kher, Himani Shivpuri, Archana Puransingh and Johnny Lever contribute to the film with brief but strong performances. As for little Sana Saeed, though a bit wooden at times, I found her to be less annoying than the Aditya Narayan's of Bollywood.
The creative team also manages to do some superior work. The song sequences are intelligently shot (especially the title song and "Tujhe Yaad Na Meri"). The cinematography is awesome whenever it has the freedom to be. Sharmishta Roy's colorful set for the camp is simply gorgeous. Farha Khan's choreography, though sometimes lifted directly from "Grease", is great as usual. (Incidentally, Farha makes a cameo on "The Neelam Show" in the film.) Above all, Karan Johar makes an impressive directorial debut, has a good script sense, and knows how to make a film with S-T-Y-L-E.
"Kuch Kuch Hota Hai" is not a film with a message. It is pure escapist cinema at its best. This is actually a very competitive period for the film's release, as two of India's biggest superstars are starring in a comedy that is releasing simultaneously. In my opinion, however, the little Sikh boy with the extended cameo in "KKHH" has more screen presence than any star of either film. He is innocent, cute, intelligent, and refreshing, and he is bound to leave you with a smile on your face that will stretch from ear to ear - very much like the film he is starring in.
Alternative Film review!
How to be a sensitive lover in 10 simple steps: by Karan Johar
Step 1: Ignore the feelings of love a tomboyish girl harbors for you (any blind retard would know that she loves him). Also, ridicule her in front of classmates reducing her to tears.
Step 2: Trample all over her feelings by wooing a college hottie right in front of her eyes. To make her feel worse, face her and say I love you 6-8 times without clarifying that you are merely practising it for the hottie.
Step 3: Marry the college hottie, who later dies while childbirth.
Step 4: After 8 years, feel a sudden surge of love for the tomboy, build up a fondness for her you neither felt nor displayed hitherto.
Step 5: Hunt for this tomboy ably supported by your mind-grating brat of a daughter.
Step 6: Return to her long after she has gotten over you, and lay claim on her like an ancestral plot of land.
Step 7: Cast doubts in her mind about marrying an eligible bachelor, who incidentally is better looking, loves her tenderly, is seemingly richer and has no added appendages like mind-grating daughters.
Step 8: Mess her marriage up by weeping copiously during the ceremonies, get your mom and daughter along to shed more tears.
Step 9: Chase the eligible bachelor away
Step 10: Marry the girl 8 years too late, after having sown all your wild oats with the dead college hottie. Obviously the post – domestication tomboy will now make a good wife and a good mother to your daughter. Congratulations!
I was surprised why this movie did not raise the hackles of feminists. And the tomboy…does she have a mind or not? Later Sensitive Lover accepts her as marriage material only after she is suitably domesticated (that means donning heavy silk costumes, applying kilos of make up, wearing everything available in Tribhovandas Bhimji Zaveri, and losing to him in basketball.)
The result:
Girls loved Shahrukh Khan's character ("Rahul is so sweet.. he is so cute..") Somehow, I missed the point!
A superhit is declared. The movie sweeps all important Filmfare awards,(I stopped watching the awards function after this), spawns many rip-offs of its dosti –pyaar theme (that's why I did not want to see Mere Yaar Ki Shaadi, Mujhse Dosti Karoge and their ilk), encourages director Karan Johar to come up with a soppier, sicker, Kabhi Khushi Kabhi Gham. He should pick up tips on theme selection and story telling from Farhan Akhtar (Dil Chahta Hai). One can only hope he doesn't make a third equally sickening flick maybe titled Kabhi Kuch Kuch Kabhi Kuch Nahi Hota Hai (K5H2)
Kuch Kuch Hota Hai was conceptually one of the worst love stories ever written. Terribly sexist and flawed. The lead character, Rahul was selfish without any justification. The only upside was the breezy music score by Jatin-Lalit, and of course the leading ladies.
Cast:
Sensitive loverboy: Shahrukh Khan
Tomboy treated shabbily: Kajol
College hottie to lust for: Rani Mukherji
Eligible bachelor chased away: Salman Khan
Acknowledgements
This article was prepared using (permission pending) material from the following sources.
Yash RajFilms:
http://www.yashrajfilms.com/
Ultra India:
http://www.ultraindia.com/
Planet Bollywood:
http://www.planetbollywood.com/